A meeting about when enthusiasm grows into something more
Me and my friend is standing in the shade outside of Harajuku station in early september, it is still hot in Tokyo and Harajuku is busy like always. We're waiting on Shingo Oosawa of Denimbridge fame and master denimblogger running Denimba.com, to arrive from his home in Saitama, little over an hour long train ride away.
We've been chatting a bit back and forth during my trip across Japan and I am thoroughly looking forward to meeting the man behind one of my favourite brands. Just before catching up I realised that I had never seen an actual picture of Shingo-san; for him it is all about the denim.
But even though we're in Harajuku, not far away from denim heaven like Marvin's and Berberjin it wasn't very hard to spot Shingo-san walking towards us in the crowd. Wearing his Denimbridge lot.3 jeans, an indigo wabash cap, carrying a massive black backpack and a huge smile on his face he greets us.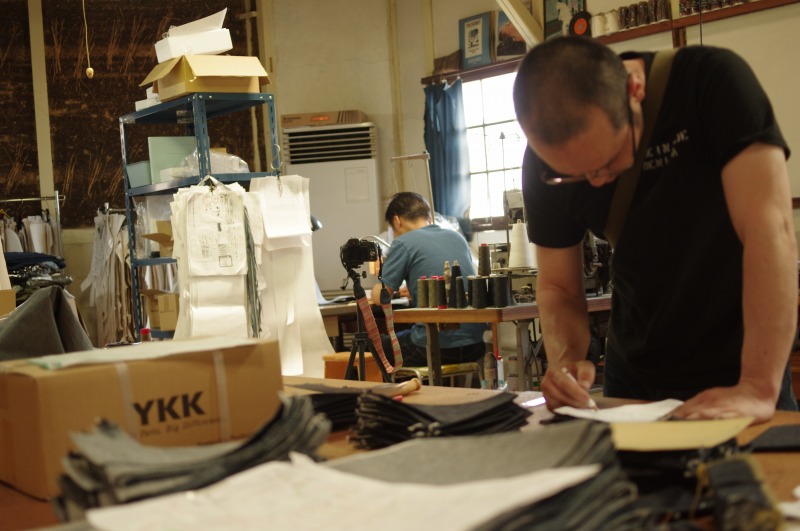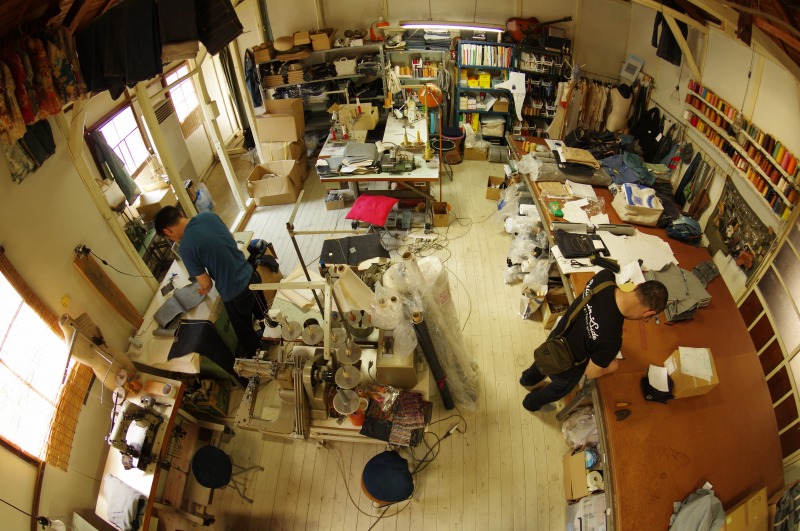 A  bag full of jeans
I've always loved the fact that all of us have a relationship to jeans. Some of us fell in love with it so much that we wanted to share and spread or love and knowledge of denim. Posting on forums and starting blogs. Shingo Oosawa is one of us, running the Japanese denim blog denimba.com since 2008.
We take a walk into Yoyogi park to find ourselves a place in the shade to chill, chat and have a look at all the faded jeans Shingo-san brought with like a denim version of Santa Claus.
Old, old pairs of Warehouse and Sugar Cane that he beat to a pulp doing manual labor in the harbor. And of course a couple of pairs of Denimbridge jeans. Including the Frankenstein version using two different denims to determine which one faded the best and then to be used for the official first run of Denimbridge jeans.
Denimba – sharing is caring
Wanting to convey how beautiful faded denim is, the blog Denimba was born. On Denimba we get to see not only his own jeans from working hard in the harbor. There is also faded jeans from lots of other denim nerds sending him pictures of their jeans.
– Denimba is short for denim-baka. Baka means nerd in Japanese, Shingo-san says and laughs out loud. Perfectly fitting for a blog completely crammed with faded pairs of jeans.
Shingo-san grew up in Saitama outside of Tokyo and first encountered raw denim in 1995 when he got a pair of Lee 200. Then he was hooked:
– It changed to a beautiful blue and I was impressed by the fades, Shingo-san explains. The aging of the jeans is still what he enjoys the most. How it starts out flat, changes its expression with wear and continue doing so.
The Denimbridge S Antique jeans
After a while we talk about the the S Antique jeans that Shingo-san brought with him. Unlike the earlier lots which have been made by either Yamaguti-san from Hands-on or Kuniyoshi-san of Double Volante fame, the S Antique jeans are made by Shingo-san himself in Saitama.
All done with single stitch construction. Shingo-san uses one machine and it takes about 20 hours to make one pair. A full on pair made by Shingo Oosawa of Denimbridge, something for the collection for sure!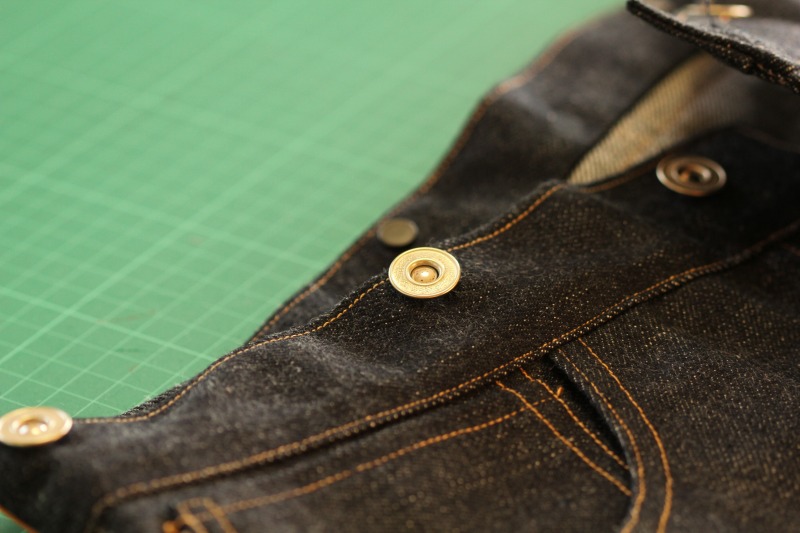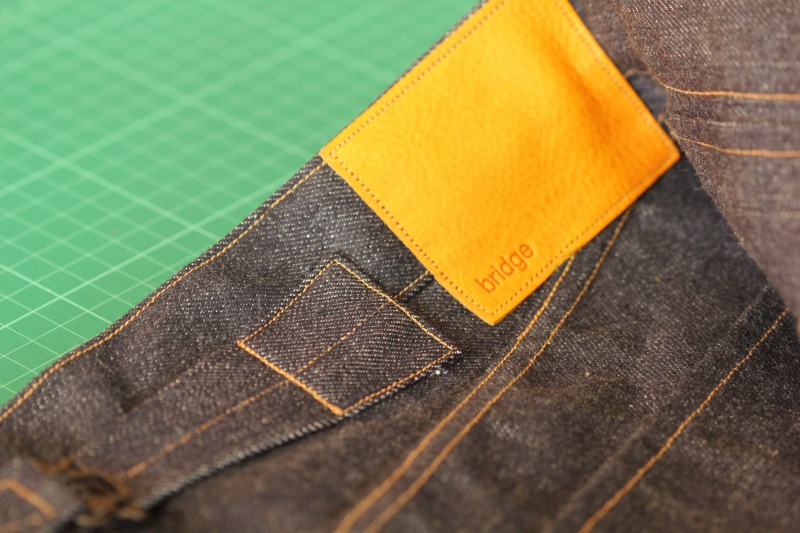 The next step for Shingo Oosawa and Denimbridge
It might not come as a surprise that Denimbridge was born out of the same idea as Denimba: proclaiming the wonders of faded jeans.
– It all started when I met Yamaguti-san. He owns a denim repair workshop called Hands-on in Kojima. Yamaguti-san has a great knowledge about jeans; be it sewing, fabrics, buttons or washing, says Shingo-san.
In 2014 the brand was born and have since produced four different models.
For the first three models of Denimbridge jeans the same fabric was used: a 13,5 oz 7×7 denim made by Shinya Mills. Using Memphis cotton in a time when Zimbabwean cotton was the buzz. But the Zimbabwean cotton didn't have the characteristics that Shingo-san was after.
– I chose Memphis cotton because it has the right amount of "hardness". For example, Zimbabwean cotton is too soft for my liking, Shingo-san explains.
Since the start of 2017 however, Denimbridge also uses a deadstock 14 oz 7×7 denim that Shingo-san got his hands on. For the S Antique jeans you can choose the fabric yourself. They look quite alike at first sight but the 14 oz fabric has a slightly tighter weave giving of a darker vibe.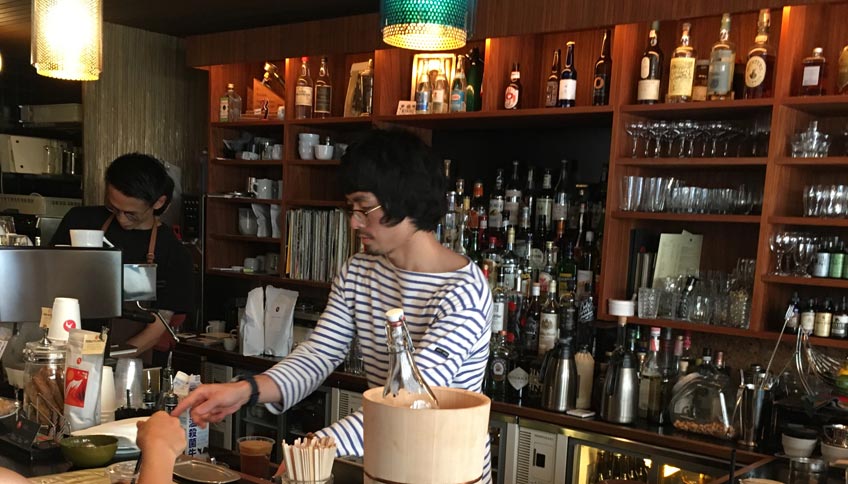 Looking for a new workshop
We went for a walk and grabbed a cold brew coffee at Fuglen. Keeping the late Tokyo summer heat at bay, talking about what the future has in store for Shingo-san and his young denim brand. At the moment he is looking for a new workshop in Saitama. But it is not so easy to find a good one floor workshop. The dream is to work full-time with Denimbridge but right now Shingo-san does sewing for another non-denim related company to keep afloat and support his family. At least he doesn't work in the harbor anymore. One step closer to living his dream.
It's very apparent how much Shingo-san loves denim. It almost feels infinite. I am thoroughly looking forward to following the journey of Shingo Oosawa's Denimbridge and how it will evolve with all the geeky knowledge he has. Right now Denimbridge offers three different models. 3rd is a narrow straight, 2nd CR and S Antique are wide straights.
– For the next project I want to make a middle straight model, Shingo-san says with a smile.