Stepping into the heart of denim making with Japan Blue Jeans
Visiting Kojima is always a treat, especially when going on a tour with Japan Blue Jeans. We'll get to that in a second.
Kojima a small town but they are so proud of their major contribution to the Japanese denim scene. Jumping off the local train at Kojima Station you instantly know that you're in denim wonderland.
Denimclad vending machines, a big ass red selvedge-ID guiding you down the stairs and railway personel wearing jeans.
The tour begins
We're sitting at the station savouring the aircondition, waiting for our guide Yudai Nishikawa to arrive. He is going to take us around town, visiting factories and mills that make their jeans.
Yudai pops in through the door, dressed in jeans and a denim cap, full of energy. He's stoked just as we are. He's pretty new at Japan Blue's sales team, joining the company not long before Selvedge Run in Berlin in January 2017.
Having grown up in a family that loves vintage denim in Osaka, Yudai gave up his career at one of the big IT companies in Tokyo to move down to Kojima and work with what he loves.
We get into his car and hit the road towards the first stop of the day.
The weaving of Japan Blue Jeans

The drive takes a while. "The mill is located in the countryside" Yudai says and sighs before bursting into laughter. Living and working in Okayama prefecture is not quite the same as the big city life of Tokyo.
After about 40 minutes we see a big ass Momotaro-sign and pull over to a parking lot with two buildings: Japan Blue's weaving factory and a storage for the fabrics produces at the mill.
The factory isn't very big which pretty common in the industry. Much of the Japanese denim industry is made up of small factories and companies specialising in different parts of the process.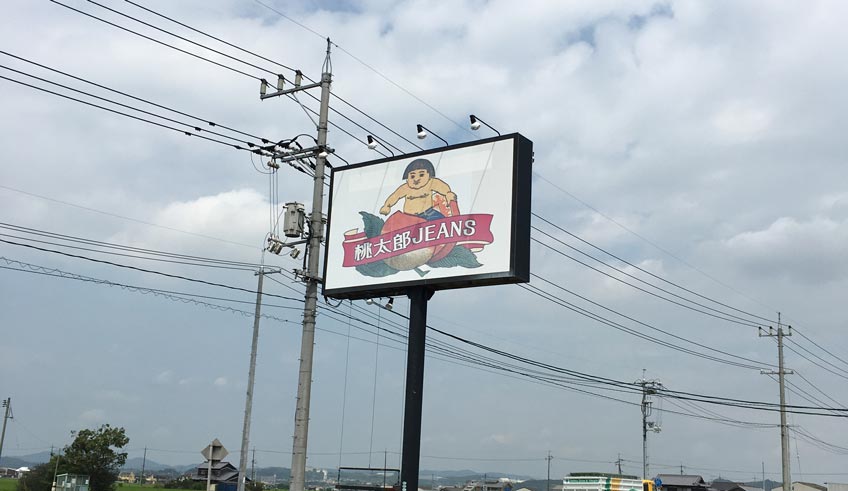 Toyoda shuttle looms
Japan Blue has ten Toyoda GL-9 shuttle looms weaving denim fabrics all day and we can even hear them loud and clear from outside. Stepping in we're greeted by the master weaver Uchida-san.
He has been in the business for 40 years, managing the noisy shuttle looms covered in indigo coloured dust. Each of the ten shuttle looms produces eight meters of denim every hour, overseen by Uchidan-san to keep them running properly with a consistent quality.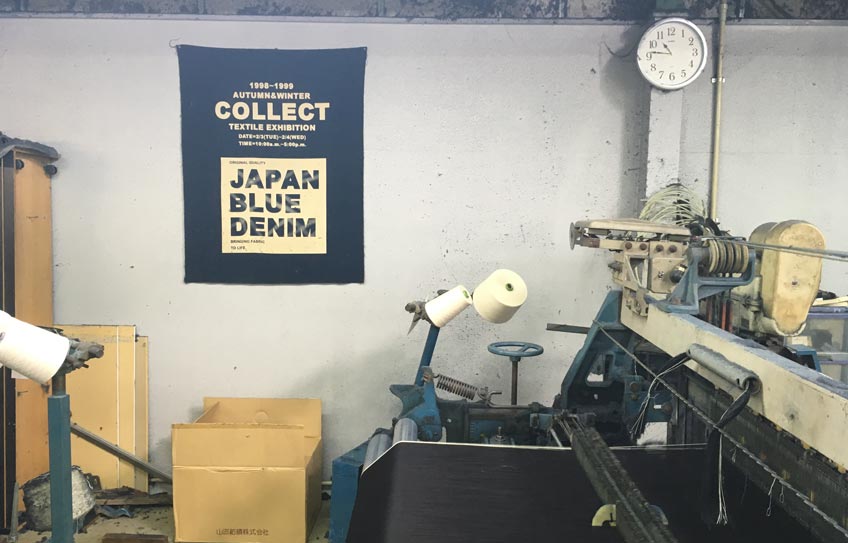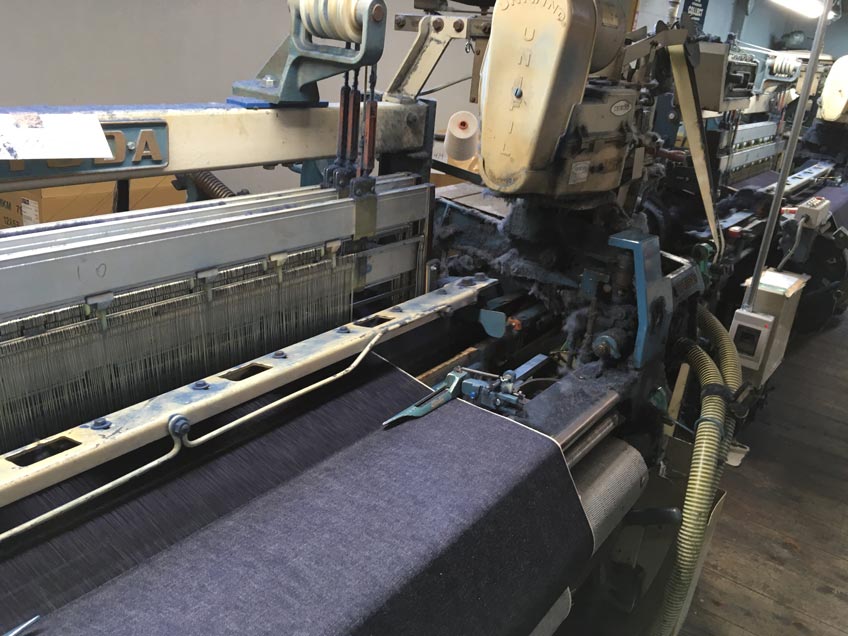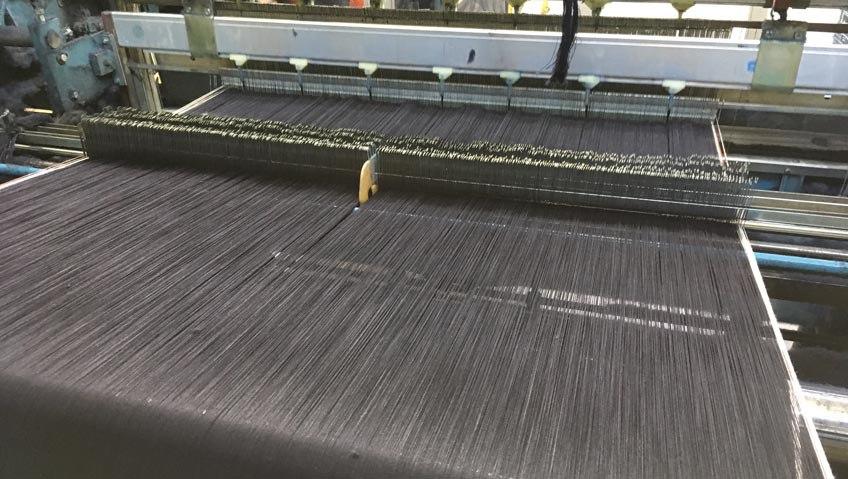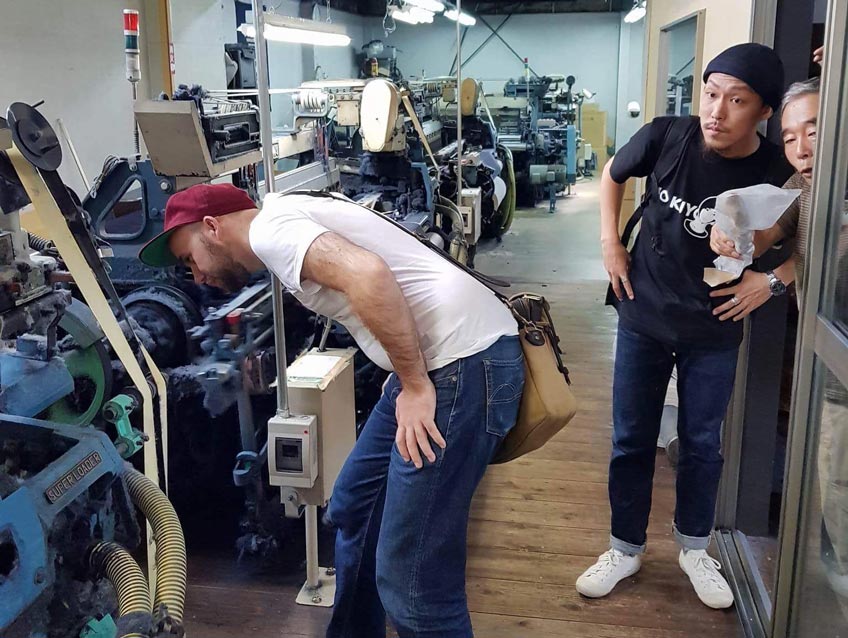 During our visit he has an assistant preparing one of the shuttle looms. It makes me happy to see a young apprentice. One of the biggest challenges the industry faces right now is the lack of young people devoting themselves to the production. A bit sad compared to the amount of denim brands popping up. There's so much knowledge that needs to get passed on. At least Uchida-san will be able to pass on his experience.
Pride in his work
Uchida-san guides us through the factory, explaining how the shuttle looms work, all the small details and steps that needs to work properly. Of course all done in Japanese, not to mention in a very loud environment.
Yudai did his best to translate while we were there but truthfully most of it sank in later, talking over lunch. I can't help but smile though, thinking of how proud Uchida-san was about his work.
We say goodbye to Uchida-san and decide that it's time for lunch before heading over to the sewing factory. Since the sewing factory is located on the other side of Kojima we drive back into town towards an udon restaurant recommended by Yudai's boss. We did not complain, it was great.

The sewing

After the fantastic lunch we got into the car again and headed up and across the hills, getting a beautiful view of the bridge leading over to Shikoku on our way.
We had our eyes set on a visit at Takaki sewing inc, a family owned business that work together with Collect, the company that owns Japan Blue Jeans, Momotaro and Soulive to name a few of their brands.
Again the factory is rather small and modest, comprising of two buildings; one for cutting and one for sewing. The owner Hideshi Takaki greets us at the door and beckons us inside to the quite tiny office area with big piles of paper, a couple of rolls of denim and a few pairs of jeans laying about.
Takaki-san and his company
We take a seat at a table next to the rolls of denim to have a chat. Takaki-san doesn't speak a lot of english but one does learn fast when you're asked if you want some green tea. The answer is always yes.
Takaki sewing inc. has been around for about 40 years. It was Takaki-sans father that started the company back then. It is obvious that he is proud of what they are doing and how much they have grown.
Now the company employ 20 people, sewing as much as 200 pairs of jeans per day depending on what model they are working on. That's 52 000 pairs of jeans in one year, not counting weekends. One big haul of jeans.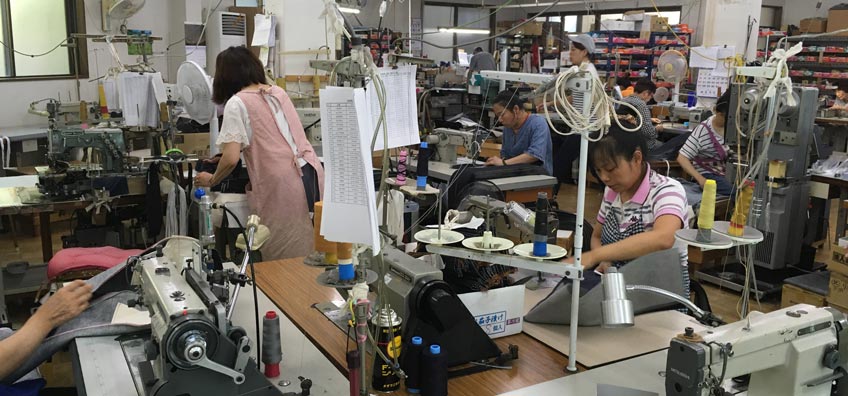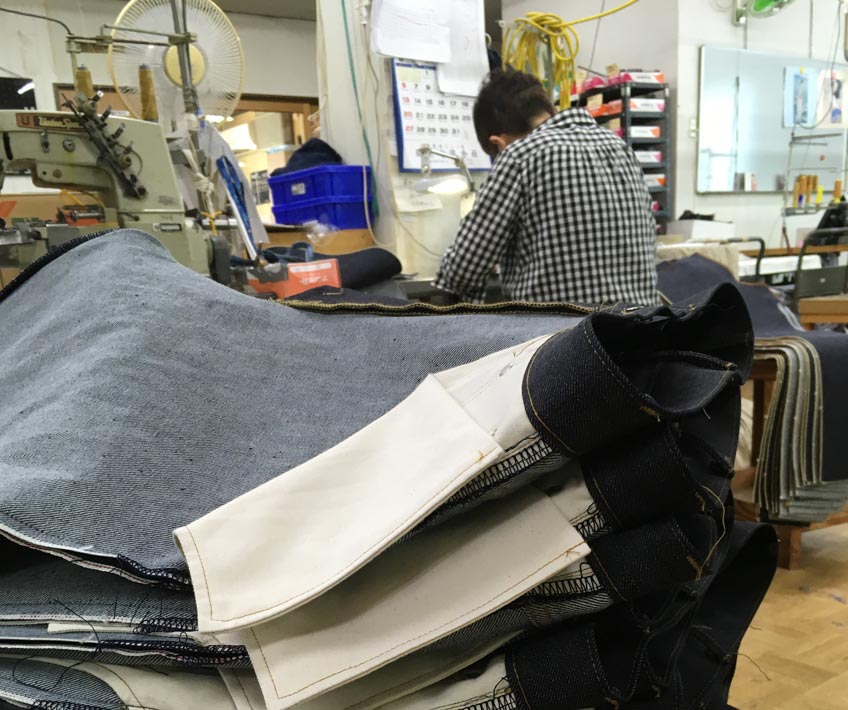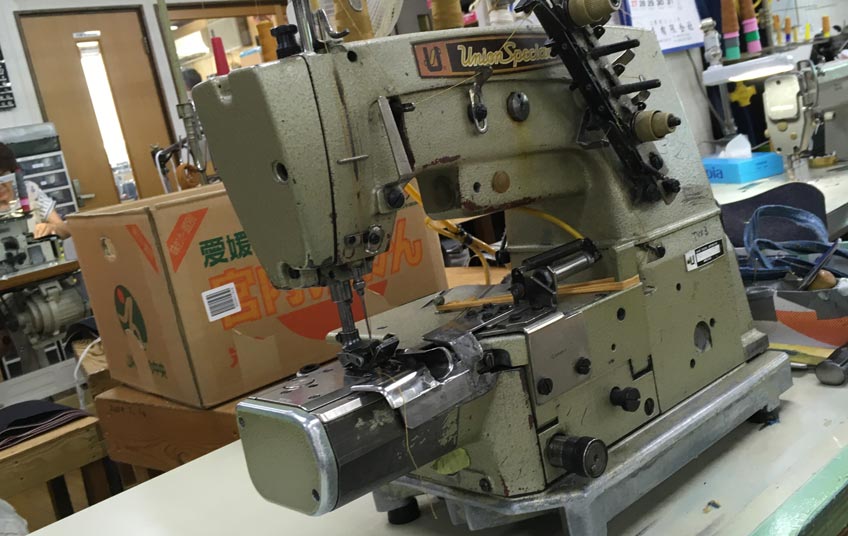 Takaki-san brings us through the door next to where we are sitting into the workshop to have a closer look at the production. It becomes clear how they manage to make so many pairs of jeans in one day.
They're very efficient at their stations, no small talk and focused on doing their part right. With 20 employees all the stations are filled and the flow never really stops. It's truly mesmerizing seeing how composed they are when they're working.
One of the best parts was seeing an old lady chainstitching hems perfectly, every time, in less than six seconds. I wonder how much I'd need to practice to get to that level?
The jeans street
Saying our goodbyes to Takaki-san we make our way back to "downtown" Kojima for our last stop on our Japan Blue-tour: a walk down Kojima Jeans Street.
We're visiting different shops, both owned by Collect and other brands. What I really wanted to have a look at was the crazy Gold label jeans by Momotaro. A handwoven denim fabric they make in the Momotaro shop.
It's really nuts and a gimmick but still fun to see how they weave it. There's youtube videos if you're interested in seeing how they make them. Check it out below.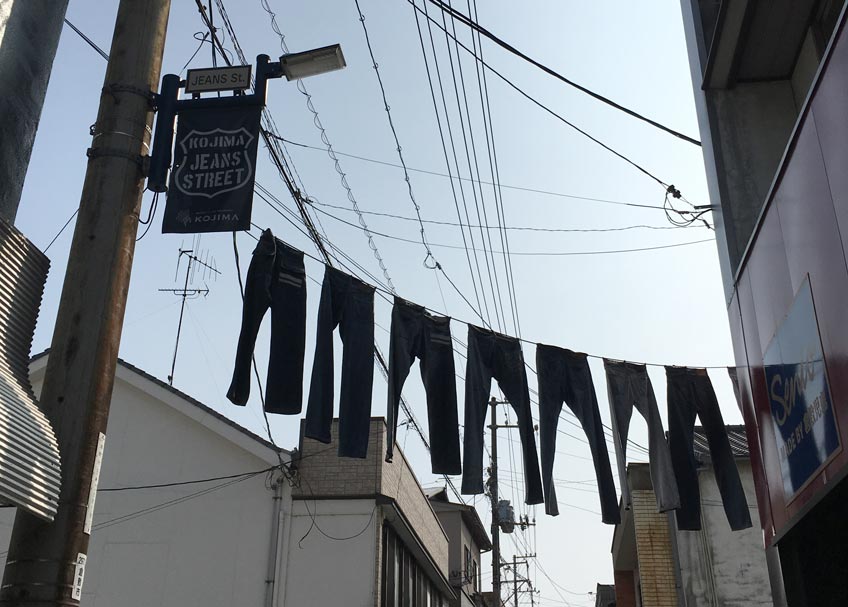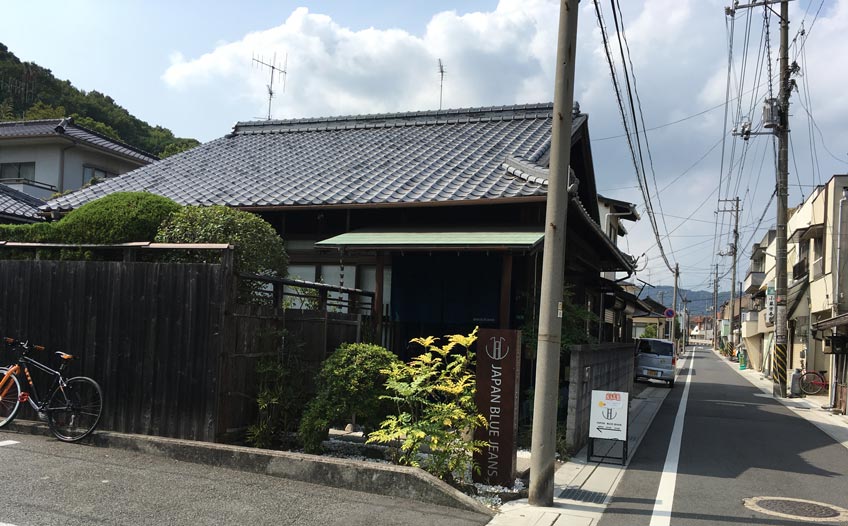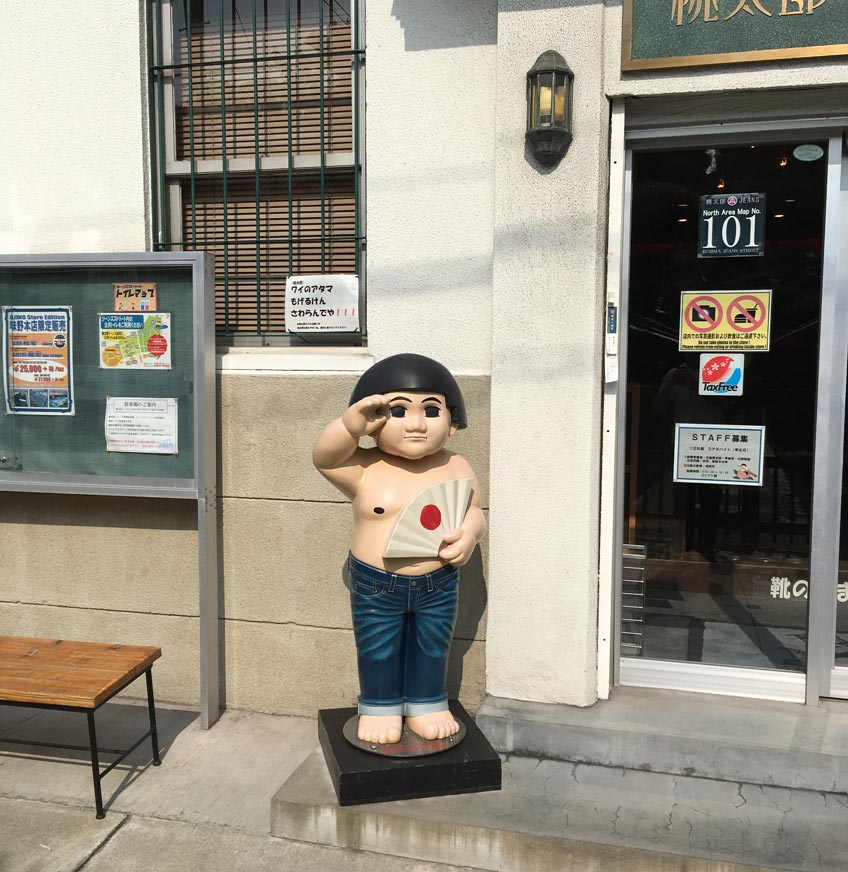 Compared to visiting parts of the production process, going down Jeans Street isn't very special. A bit touristy even. But if you're in town and have time over you might as well check out some of the stores.
Coming down to the end of the street we say goodbye to Yudai and go our separate ways. First stop is grabbing a cup of coffee at the café on the corner. It's been another good trip to Kojima and lots to take in.