Yeah, Instagram sure has made sticking your nose into the denim scene very easy but I'm definitely not the only one who thinks that it has a lot of depth to it. Thankfully we can get dive deeper into the indigo dreams of denim in other forms: you have forums like Superfuture and Denimbro but of course there are some amazing books about denim out there. Here's a shortlist of 7 great books about denim that are some of my own favorites.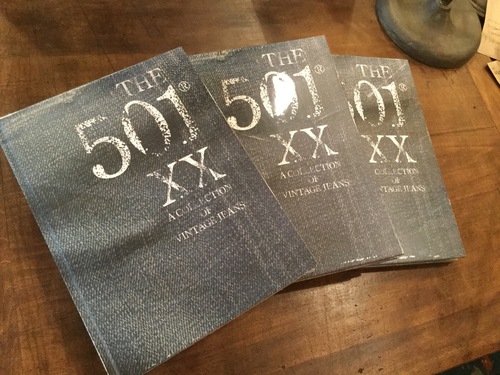 The 501 XX: A collection of vintage jeans
Like you might have guessed this book sticks around Levi's classic the 501XX and its iterations throughout the years. Yutaka Fujihara and Naoki Kawamata has with help from their friends made the ultimate picture book for vintage denim lovers. Written in both Japanese and English they go through the tiny differences that helps us date how old the vintage 501's are, all accompanied with both full shots and detail pictures.
Ametora – How Japan saved American style
W. David Marx has written an excellent compressed story of Japans love story for American style and how it has changed and influenced each other. The books kick of in the early 20th century and takes us on a journey all the way to modern day Japan. Of course the trends of vintage denim, how the Japanese denim industry came to be and Osaka5 play their respective parts in the book.
Jeans of the old west: A history
Need to update your knowledge of the history of jeans, the very first American brands and what was happening in the 19th century of the denim scene? Michael Harris book is a staple piece in my book. If you want to understand what the brands are doing today I'd recommend to read up on denim history – this is where a lot of the boys fetch their inspiration.
True Fit – A collected history of denim
Swedish denim dude Viktor Fredbäck has one of the most unique denim collections in the world. In the book he tells the stories of his vintage pieces spanning over a 100 year period from the 1870's to the 1960's while also brushing up on the history of the classic denim brands and where it all started. All in all a great peak into denim history and one fine collection. You can read my interview with Viktor from a few years back to learn more about it.
All about vintage denim
Are you thinking of getting into the vintage hunting game? Better start studying then! If you're only looking for Levi's 501's then you're ready to soar if you pick up The 501XX: A collection of vintage jeans I mentioned earlier. But if you're thinking of picking up something else. Maybe a chambray shirt from Hercules or a chorecoat from Lee? Then I highly recommend this comprehensive little book from Japanese Lightning Magazine. They go into differences on labels, hardware and have pictures from different eras. A perfect start to get you started in vintage paradise.
Denim dudes
One of the things I enjoy about denim is the warm community. Amy Leverton was kind enough to give out a book where you get to meet some of these denim dudes. A very nice and personal kind of book that differs from what I've read before.
Blue Blooded
Thomas Stege Bojer, perhaps mostly known for his blog Denimhunters, released Blue Blooded a couple of years ago. If you compare Blue Blooded to the books already mentioned here, Thomas takes a wider grip on the denim scene in his book. He has incorporated history, interviews with brand profiles but also – and to my enjoyment – a chunk about denim production. Definitely worth adding to your stack of denim litterature.
What are your favorite books about denim?
There you have it, 7 books about denim to boost the denim craze to another level. What are your favorites? Shoot a comment below.