In his book True Fit – A collected history of denim the Swedish denim collector Viktor Fredbäck have re-enacted the life his vintage garments once lived.
Viktor is a denim collector holding over 300 vintage pieces. It may not be the largest collection but it is nothing short of unique with jeans dating as far back as 1874. In November Viktor shares parts of his collection in his book True Fit and I'm stoked as hell to see garments that have inspired the denim scene we have today.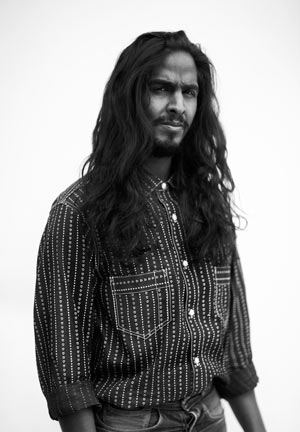 A few weeks ago I ran into his photographer Fredrik Ottosson at Unionville. We chatted for a while about the project and it got me even more intrigued. I didn't have a choice but to get a hold of Viktor and pick his brain.
Tired of magazines, books and blogs regarding vintage garments only showing the pieces lying flat Viktor ended up with the essence of True Fit: how the garments fit and the life they lived rather than just the garment on its own.
"[Showing the garments flat] don't give you the big picture on how it fit. Therefore I wanted to show my garments consistently on people."
100 years of denim
The book covers the period Viktor consider vintage in the denim world: from the 1870's trough the 1970's. This century of denim is then divided into several epochs, something that Viktor and his friend and photographer Fredrik Ottosson started with before this was even meant to become a book project, at first they were only documenting Viktors collection.
"Personally I like the 1880's the best because Levi's still had a patent on the rivet, forcing the other brands to make up other solutions. Many of these solutions on reinforcement of pockets are wonderful to look at."
Lifestories
I was very intrigued when I heard we get to hear stories about the wearers of some of Viktors garments in the book. Among others there's the Swedish sailor that brought home his raw Lee Riders from the 50's and a rodeo clown.
Viktor have also tried on a slightly different take on the companies making these classic pieces. In True Fit the focus is also in this retrospect on the individuals behind the company rather than the companies itself.

There's more than Levi's
The oldest pair of jeans Viktor have in his collection is dating as far back as 1874 – a pair of Chang Quan WO. When we talk about early denim history our minds are often steered towards Levi's. Yes, they played a major part with their patented rivet but they weren't the only kids in the sandbox.
In True Fit Viktor tries to enlighten us further on this subject. And I couldn't be happier. Among others we get to drool over Boss of the road from 1920, Stronghold from 1900 and PasificCoast from 1886.
To me, I feel that is better content than another pair of Levi's. Don't get me wrong, I enjoy a beautiful pair of vintage Levi's like any other denimhead, but the denim scene is so much bigger than Levi's repros and a lot of fantastic garments used other brands for inspiration. We don't have to look much further than Warehouse with their Copper King line, the reanimation of Stevenson Overall Co or Heller's Café. I'm glad that we get a chance like this to see parts of it.
Digging with Mike
A couple of years ago Viktor got in touch with Michael Harris over an old piece of fabric on Ebay. Not long after that Mike invited Viktor over to to go denim treasurehunting in the old mines of Nevada. He got hooked to say the least.
"[Befriending Mike, Charla, & the gang] have given me a greater respect for the garment. In my opinion there haven't happened much in over 100 years. A pair of simple five pocket jeans today is not that different from yesterdays jeans in the mines. What really open up my eyes is rather how many brands that made jeans at the end of the 19th century."
Viktor clearly loves vintage denim and I'm sure we will be able to feel it in every single page of the book. I will make sure a copy of True Fit ends up on my bookshelf. If you want one yourself it is possible to pre-order it via their webpage. You even get a 10 % discount if you're fast.
Photography by Fredrik Ottosson