An interview with Ryan Darragh, owner of kids denim brand Nippers.
The term 'Coolest kid on the block' have a new face and his name is Jack. Jack is the boy of Ryan Darragh – vintage fascinado out of Belfast and owner of the new kids denim brand Nippers. I had the privilege to chat with Ryan about his new endeavour. It's a bit of a long read, stay with me.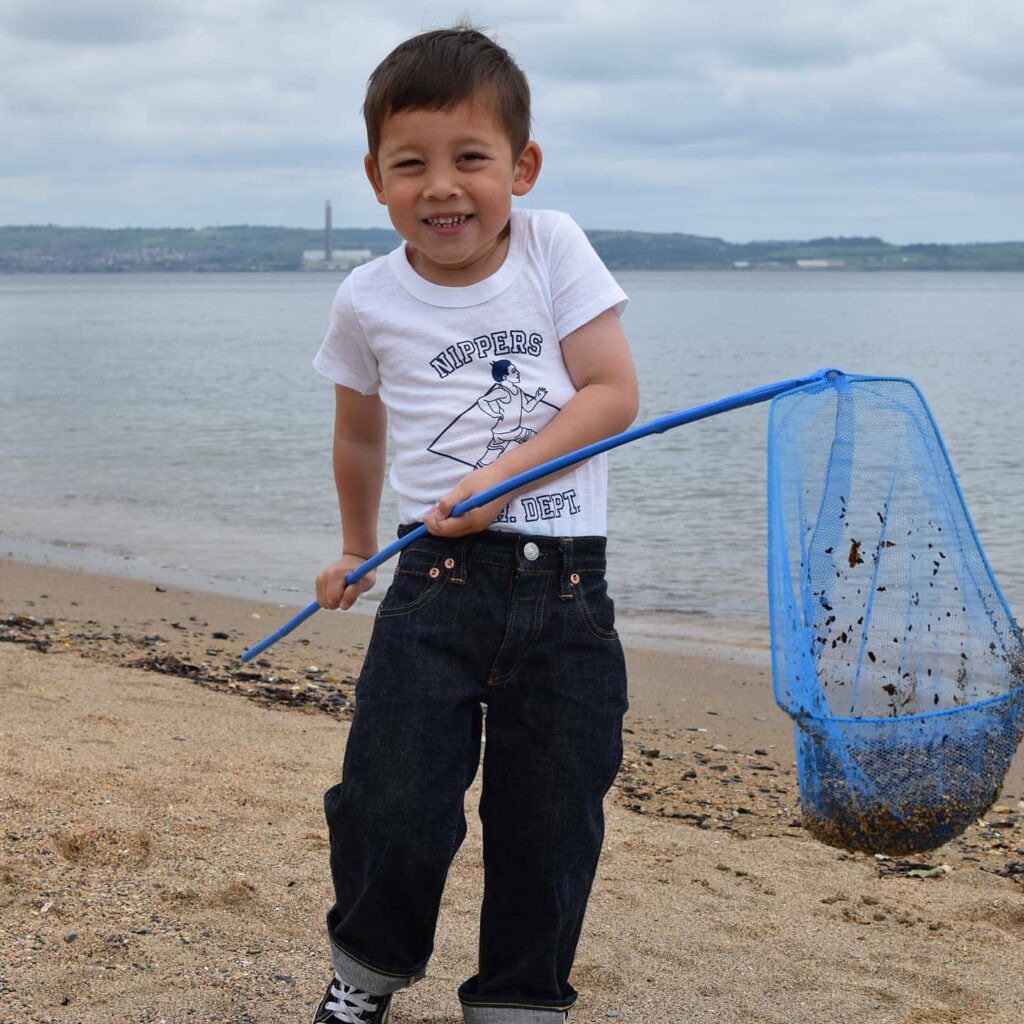 Nippers is replicating vintage clothing from a time when kid's clothing was sturdier. Like many of its beloved menswear peers, Nippers are made in Okayama, Japan.
"As far as I know, 'Nipper' originated in the 1800's and referred to a young child who ran errands for a group of working men so I thought it fit in quite nice to the whole workwear/amekaji style."
Ryan hopes people will ditch the fast fashion world of kids clothing, and instead give a chance to the idea of vintage and quality clothing that's made to last.
His vision for the jeans is for them to become vintage. The jeans are going to last way beyond the length of time your kid wears them so they can be passed on to a friend's kid or neighbour.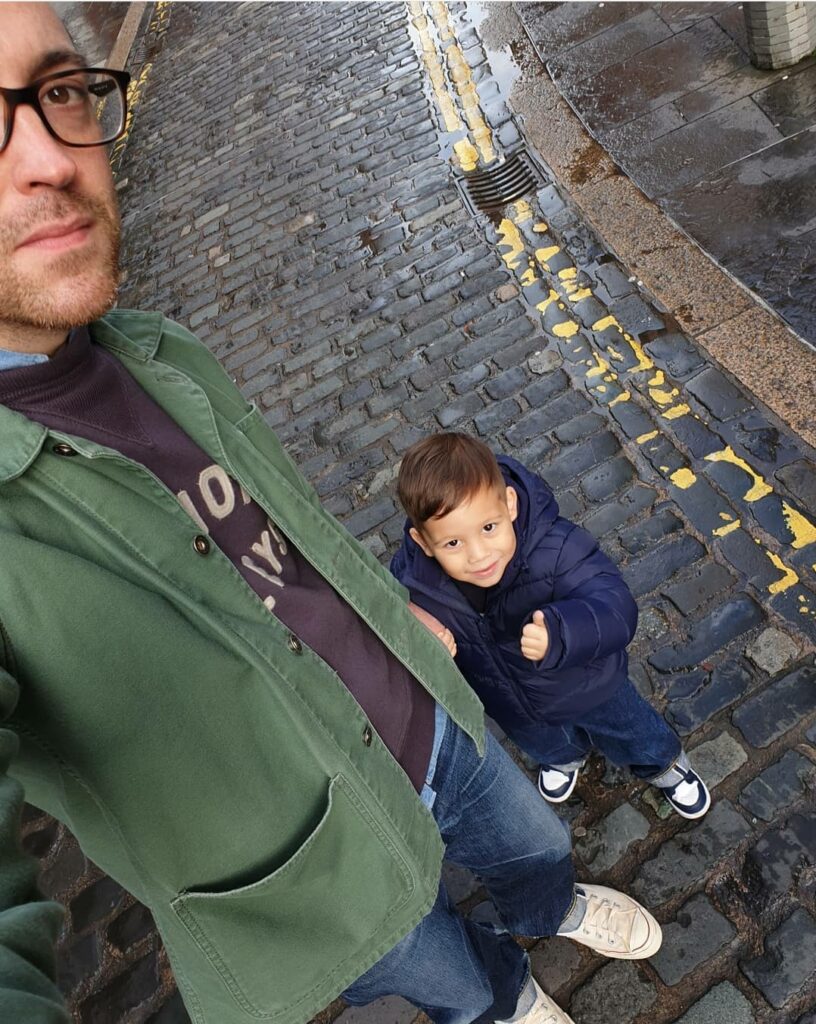 A vintage seed is planted
The idea to start a denim brand for kids came when Ryan bought the first vintage pieces for his son Jack. The first pair Jack got to actually wear was a pair of 50's 503zxx Levis bought from Marvins in Tokyo.
As cool as it is with kiddos rocking vintage jeans it doesn't come without troubles.
"When he was wearing them I was always worried about him taking a fall as all kids do and ripping a knee (and obviously him hurting himself) or spilling a milkshake all over himself. There would definitely have been tears, from me at least."
Having a brand new pair of reproduction 503zxx that Jack could take the tumbles in and climb trees made perfect sense.
A working man from Belfast
Ryan was born in the late 80's Belfast. His dad was a truck driver, and his mother had different small jobs when he was a kid before she had to quit to take care of his grandmother when Ryan was still young. It was a pretty happy childhood, not exactly well off but they were happy with what they had.
Belfast has a long going industrial history and straight out of school Ryan went down the same path as many of his relatives working in metal fabrication and welding, continuing to do so for 15 years.
"The imagery on the patch is of the cranes at the Harland and Wolff shipyard here in Belfast. It's the same yard that built the Titanic and represents a big part of the industrial history of Belfast."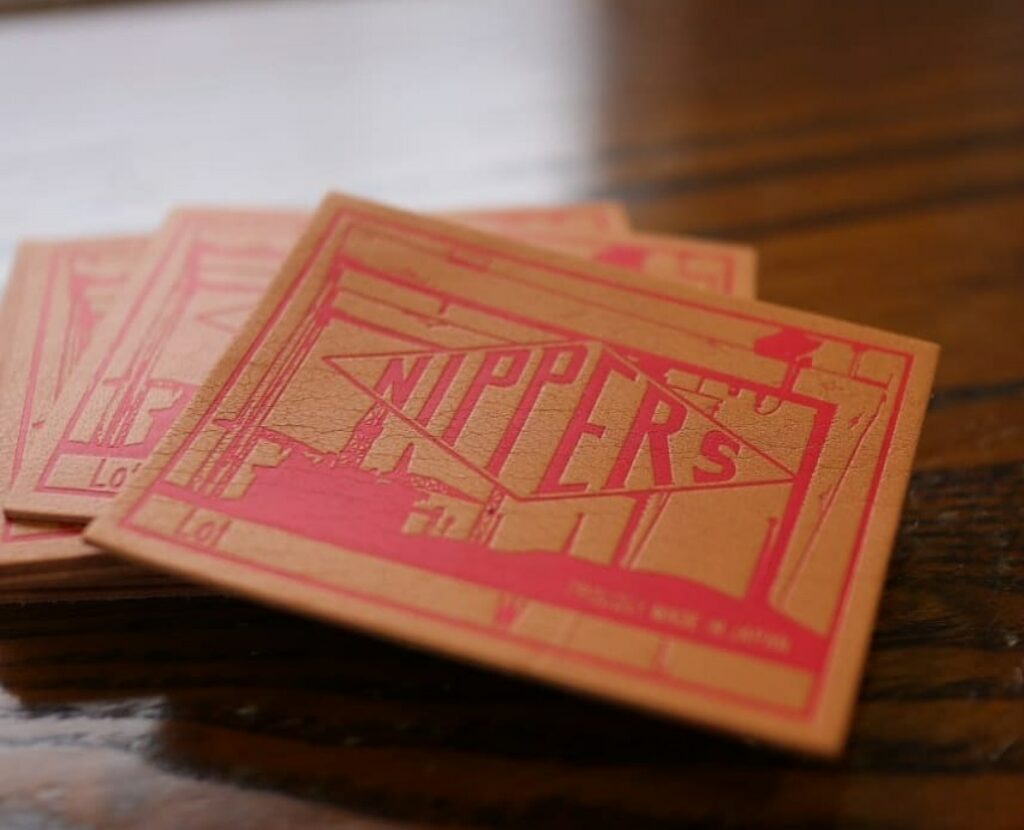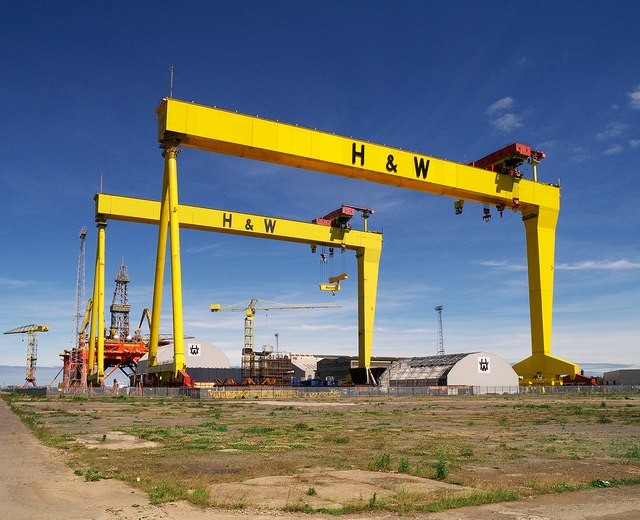 A plan takes shape
Once Covid hit, like many others Ryan was put on furlough from his welder job and then made redundant. It wasn't all bad though according to Ryan, a lot of time to think materialized more and more into an eagerness to give the idea of Nippers a go.
"If this gives me the option of maybe going part time at a regular gig and spending more time with the family then I'll be stoked."
With zero experience from the clothing industry it has been all about learning on the job for Ryan. It wasn't all that easy to get it running though. A couple of manufacturers declined to work with Nippers.
The jeans are made exactly the same as adult sized pairs so the way a factory looks at them is that the same amount of work is involved. Hence the manufacturing cost is the same.
An email to the lovable Shingo-san of Denimbridge fame changed everything. Although Shingo himself had his hands full making his own jeans he still helped out. Shingo set up Ryan with a friend of his that runs El Canek's factory in Okayama, the denim heartland of Japan.
The denimhead community also played its part in the budding Nippers brand. Helping hands aided Ryan with basics of photography, design work and what you need to think about when starting your own brand.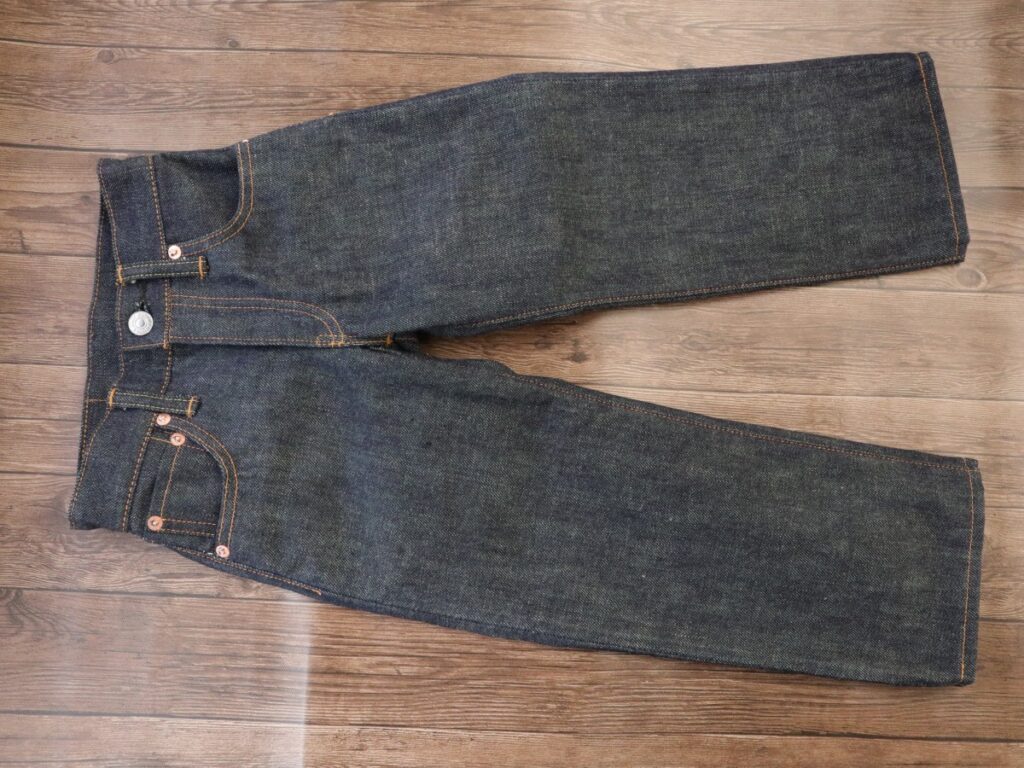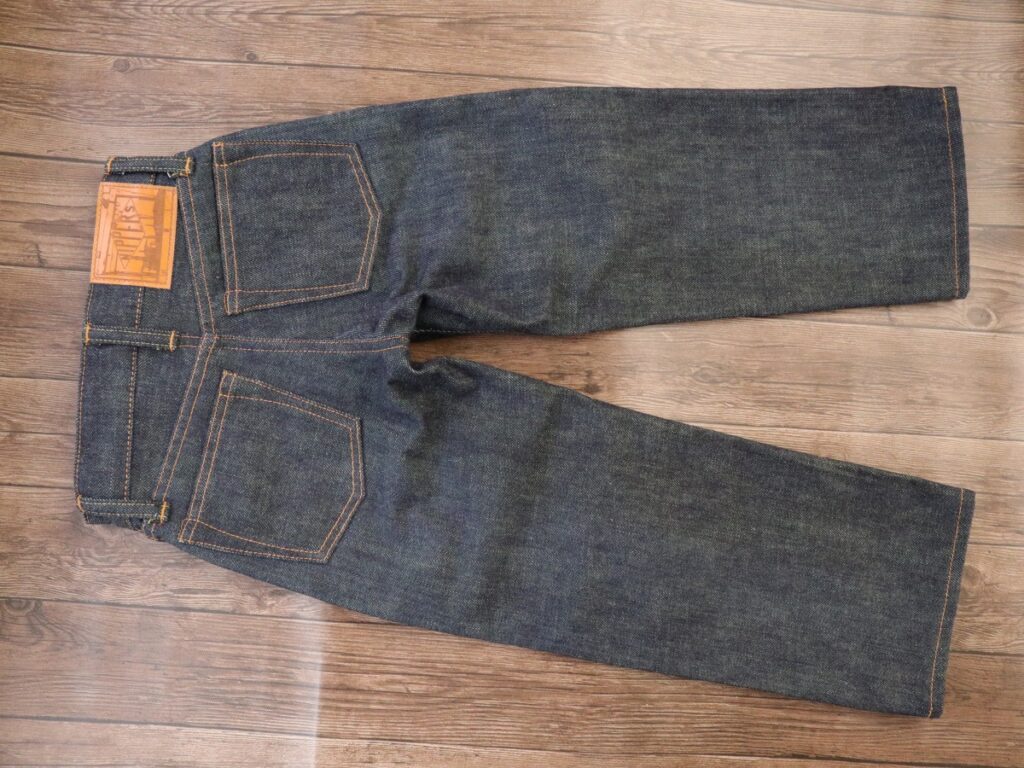 The Nippers jeans named NO1
For Ryan it is very important that the Nippers jeans are made the right way. No cut corners, no half-hearted attempt at a pair of selvedge jeans. Simply put he set out to make the best and most true to the originals one can find out there.
"I want these to feel like the real thing, like the vintage Levi's they're based on."
The jeans Ryan set out to make are a reproduction of a mid 50's 503zxx. Basically the kids version of Levi's 501zxx, the zip version of the 501xx.
Since it's jeans for kids, the choice of denim was an important one. Not too heavy, not too slubby. After all, comfort is king for the kiddos. It can't feel uncomfortable to the skin nor restrict the movements of playtime.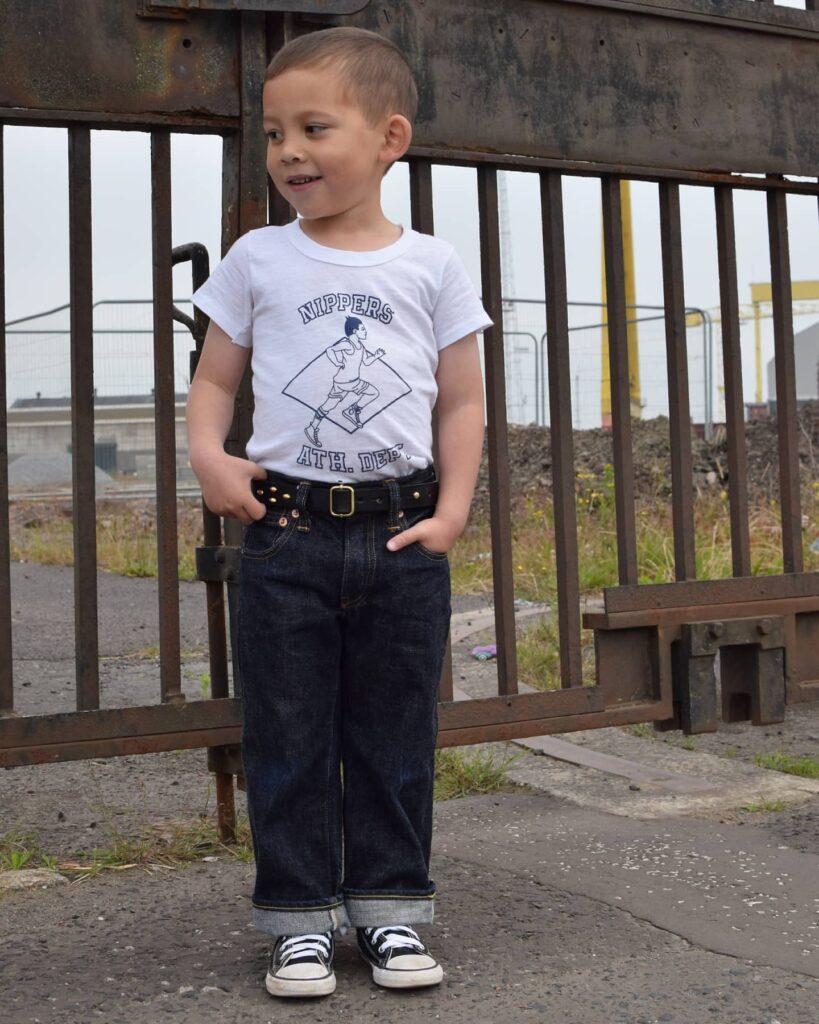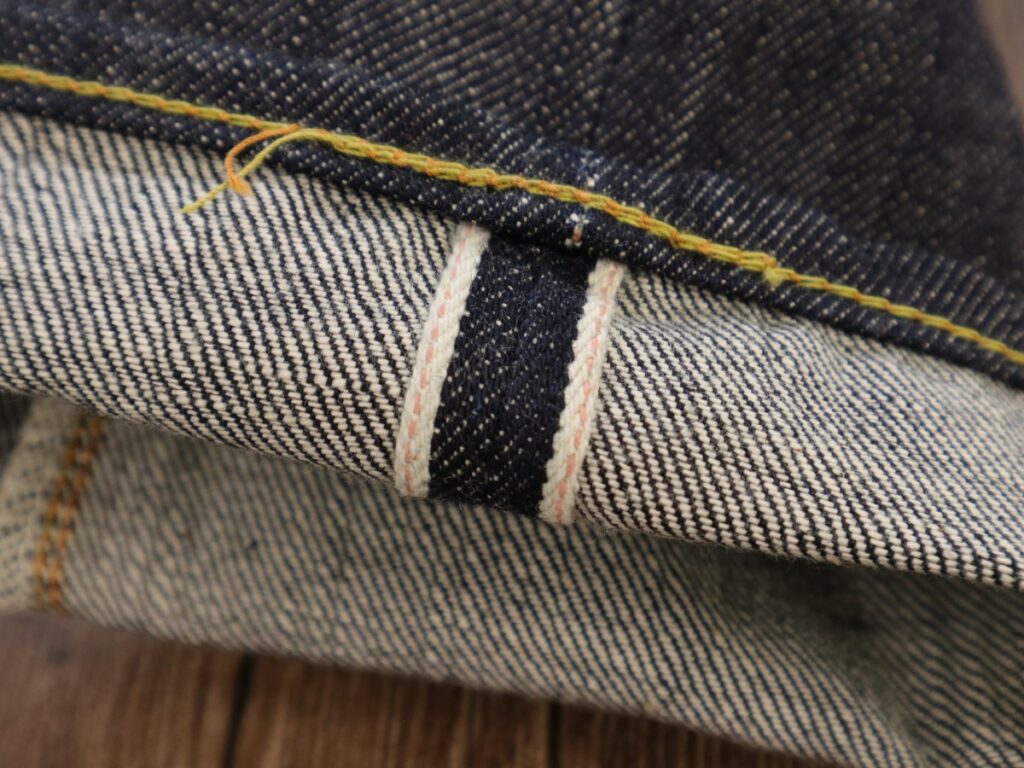 The original denim used by Levi's in the 50's was perfect for what Ryan was looking for. The hunt began to find one that included the pink selvedge-ID used on vintage 503zxx.
After looking at samples Ryan settled on a 13,5 oz denim woven in Okayama at the famed Shinya Mills for his Nippers jeans. The same mill that supplies Full Count and TCB just to name two of the big guns.
"The jeans are also made in Okayama so I like to think of the jeans as being born in Belfast and made in Okayama."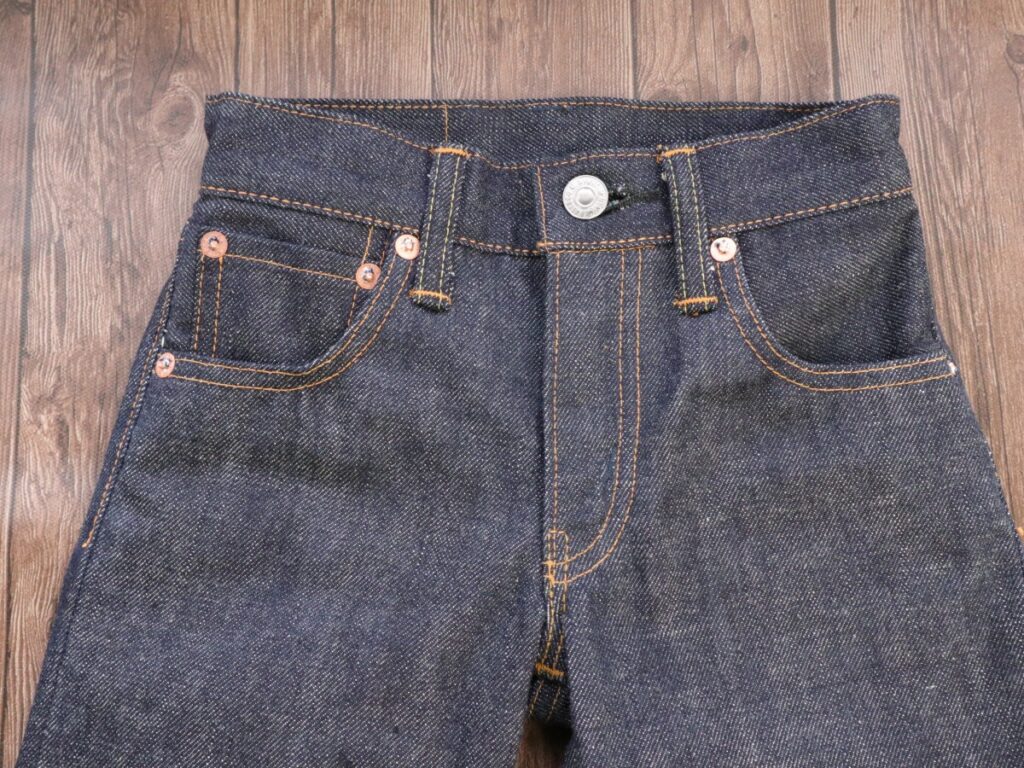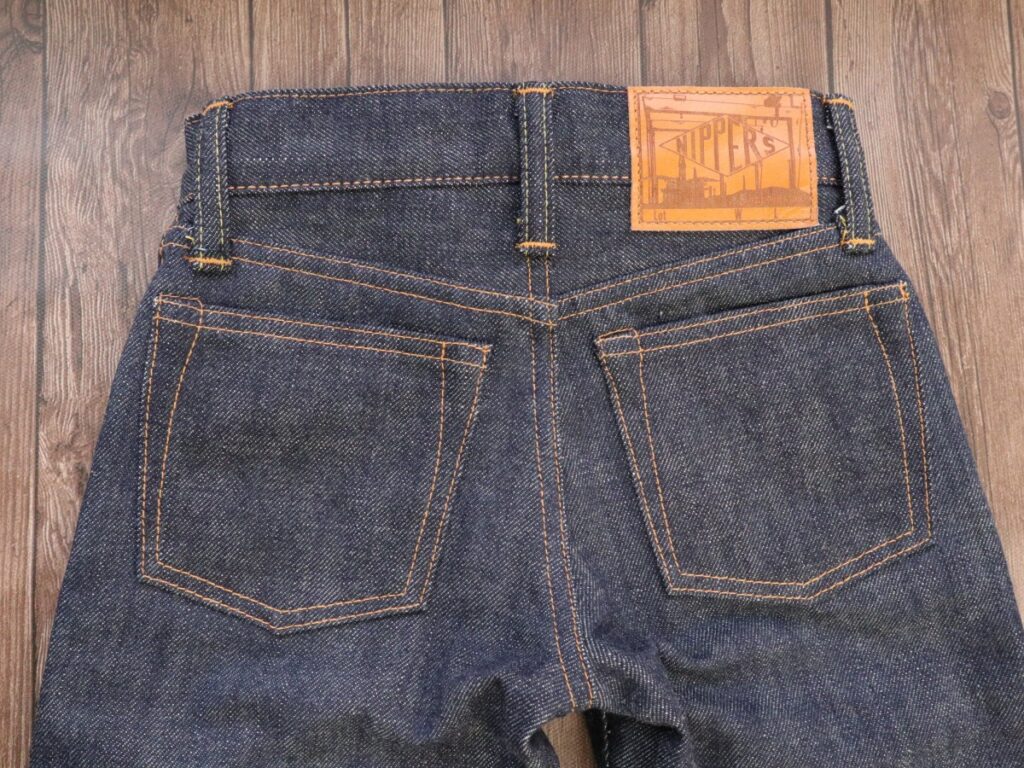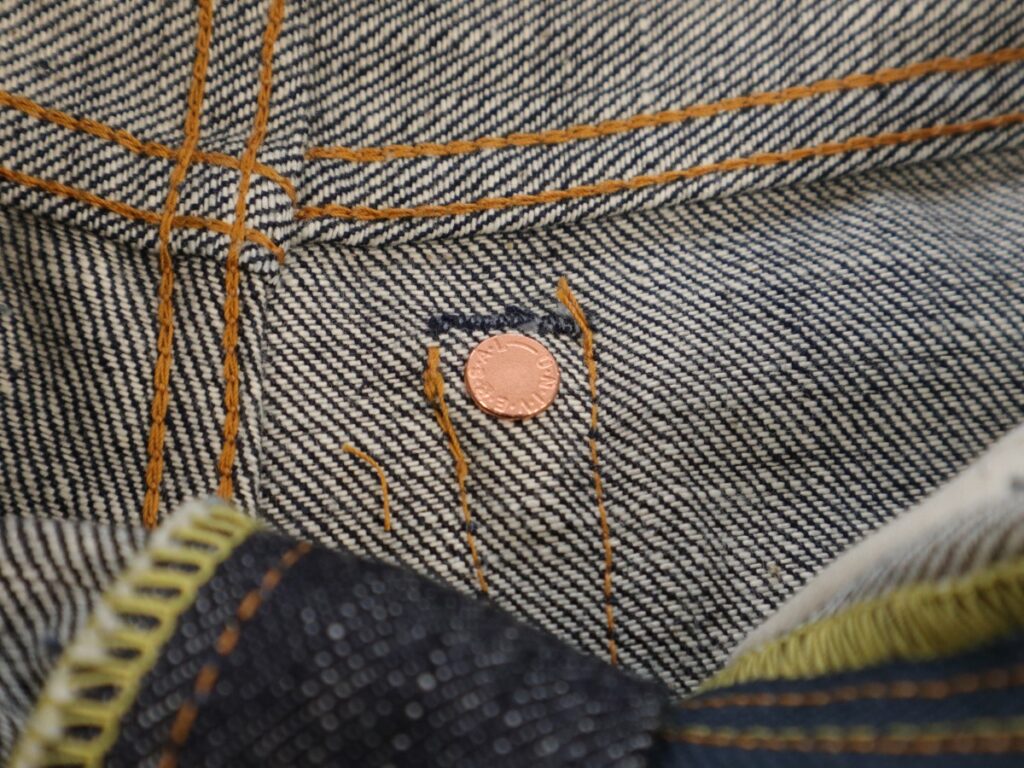 Nippers is more than repro denim
Offering vintage is a key part of the brand. Vintage is the basis of the whole amekaji/workwear style so it makes sense to Ryan that it should be a part of the brand. For the site launch there is deadstock 60-70's sneakers and deadstock (made in the USA) 60's Hanes t-shirts available.
"Vintage is the heart of Nippers and it's so important to the overall identity of the brand."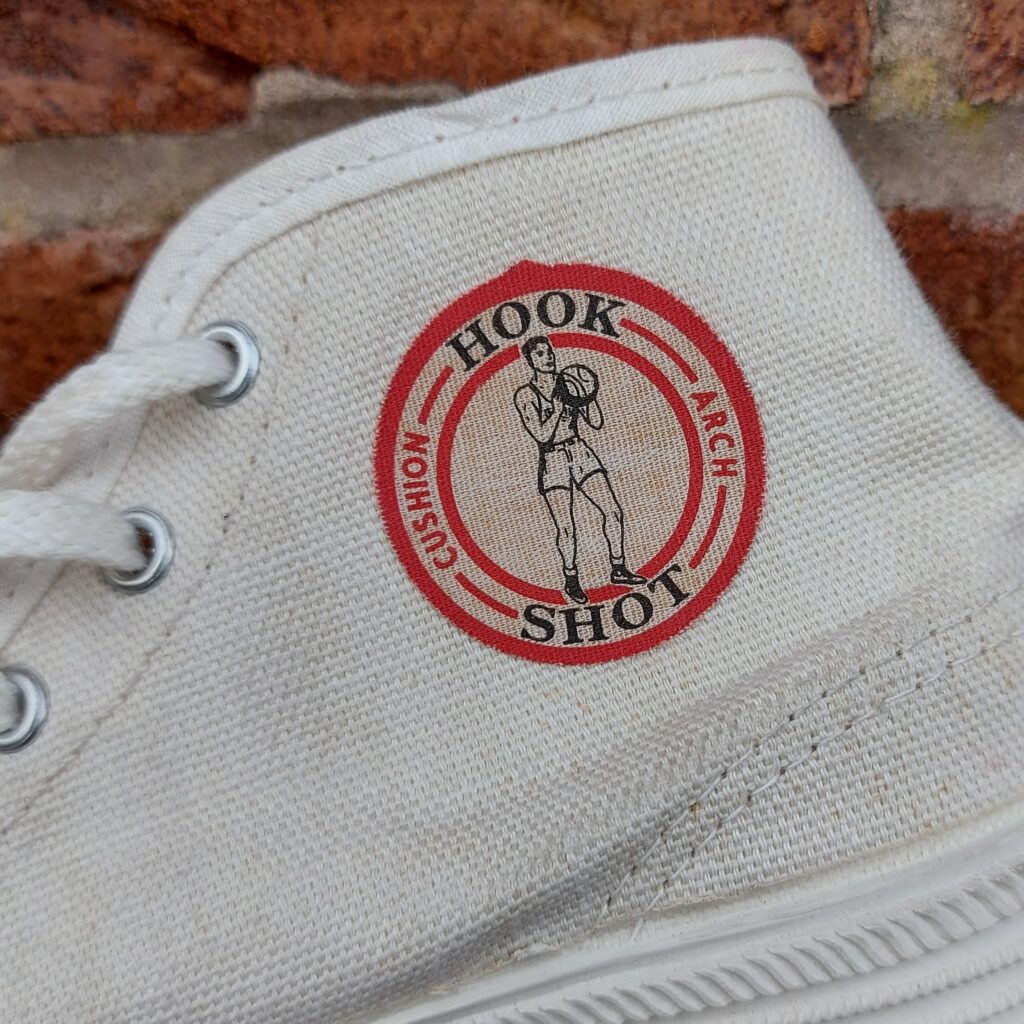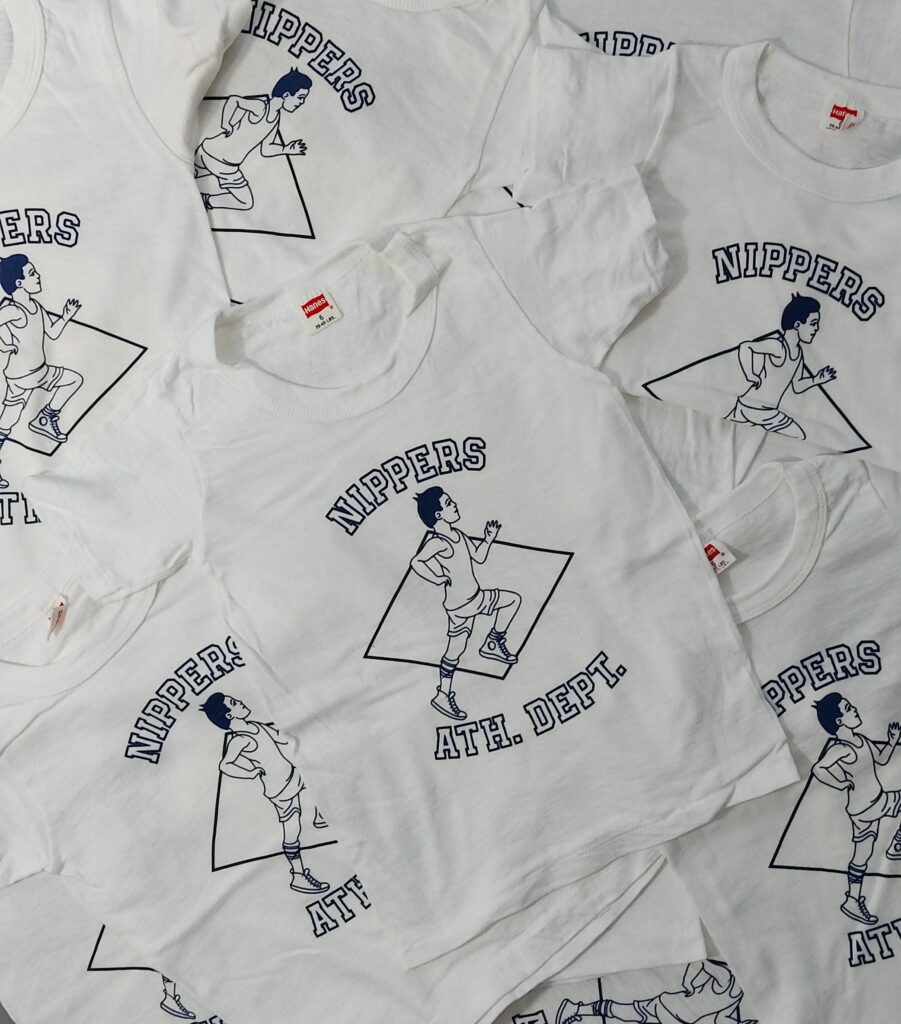 The t-shirt design is loosely based on a 1930's champion tag. The running man was changed to a young boy to be more fitting with Nippers and to make it a little more playful.
"I really have to give credit to Paul for the design. I gave the outline of what I wanted and he ran with it putting his own spin on my ideas and I love the outcome."
What's next for Nippers?
It's all about one step at a time, but Ryan isn't short of ideas for what he will do next. Continuing on the current path of the brand we can hopefully see a type 2 507xx jacket. And more deadstock vintage as well. Sounds perfect to me!
But there's also other intriguing heritage based ideas in Ryan's mind:
"I would like to use linen in maybe an indigo dyed work jacket or trousers. Northern Ireland has a rich history in linen production so it's definitely something I'd like to explore."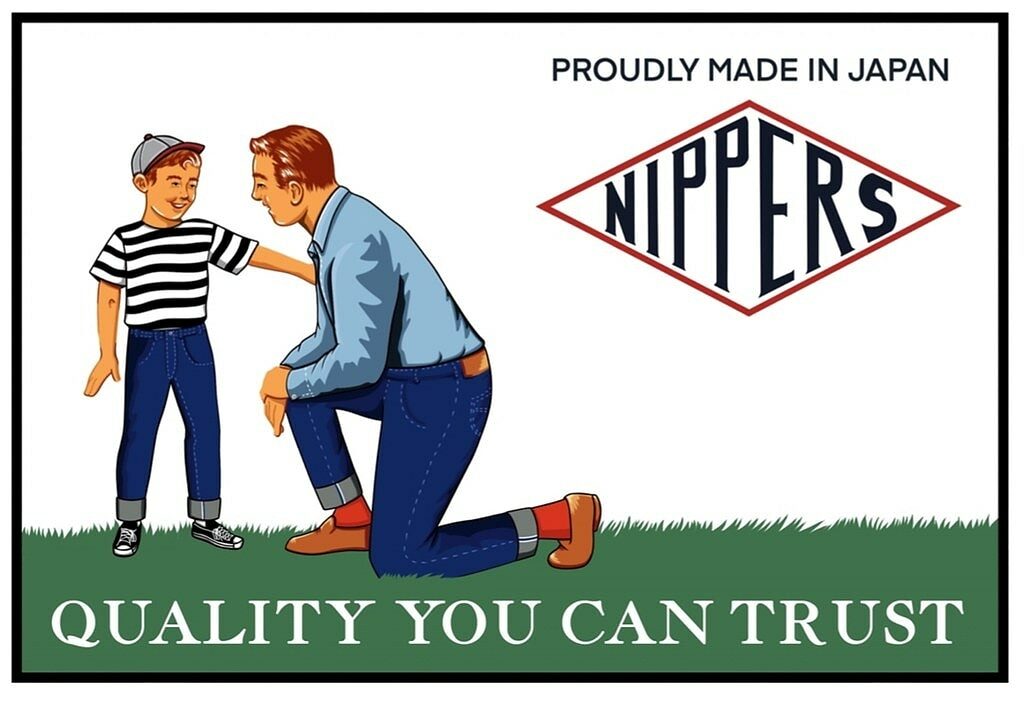 Where can one buy Nippers jeans?
Head over to nipperspw.myshopify.com. In the shop you'll find the full range of deadstock vintage and of course also the Nippers NO1 jeans.
Did you get more questions after the read? Want to chat about the product or just geek out about denim and vintage workwear? You can always contact Ryan on his instagram handle @nipperspw.
I hope you all enjoyed the read. Now go spoil your kiddos! Can't deny them the same denim pleasantries we all love, can we?